Geodesic domes for events, are one of the most resistant and customisable structures we can find today.
Geodesic shapes are constructions based on Platonic Solids, and are one of the most resistant structures manufactured by man.
As they are 360º closed structures, they allow multiple forms of customisation, and the events sector has seen in this type of unique marquees, elements that allow them on the one hand to host an event in an open space and at the same time to show the brand image in multiple and varied ways, and as we will see a little further down, in surprising ways that other types of marquees cannot offer.
What exactly are  geodesic domes?
Geodesic Domes or Geodesic Tents are structures of great performance and great harmonic space that offer a diaphanous surface as they do not need columns or pillars to take their shape.
They are eye catching structures due to their unusual shape and originality but without losing an ounce of security and recognisable from a distance, due to the fact that there are currently not many buildings with spherical or semi-spherical shapes, whether permanent or temporary.
Domes are currently fashionable structures, thanks in large part to the boom in demand for this type of structure for Glamping, glamorous tourist accommodation, in which this type of semi-spherical structures are in great demand, and also thanks to the events sector, which is increasingly using this type of structure to host all kinds of events.
Geodesic domes in events

In this post, we are going to focus on the use of geodesic domes in the events sector, because although this type of structure is gradually becoming known, there are certain elements to consider when organising an event in one of these marquees, otherwise, the cost could skyrocket.
They are somewhat more expensive than the average event marquee and the circular shape of their surface, when it comes to an event, can multiply the technical needs that do not occur in a standard marquee.
As with almost everything, this type of event marquees have their pros and cons, and in this post we are going to help you so that neither the pros nor the cons make your event too expensive.
To do so, first of all we need to know these pros and cons.
Visually attractive structures
Uniqueness that sets us apart from other events
Wide range of sizes to suit the needs of each type of event
Multiple exterior customisation options
Possibility of using only the structure as an aesthetic element, without a roof.
Multiple interior configuration options
Unique structures in which immersive 360º Fulldome video projections can be made
Possibility of installation on different surfaces, including installations on other structures, such as maritime containers, etc…
Multiple interior customisation
Possibility of interconnection between them
Geometric shapes that can be used for lighting effects, through the use of LED tubes.
Open-plan surface without columns or structures
Structures are somewhat more expensive than other standard structures.
Depending on the size, larger domes require several days of installation time
Depending on the interior design, in some cases it is necessary to double or triple the lighting and sound installation for formats with central circular stages.
Machinery required for installation
For levelling on uneven surfaces, the installation of a levelling floor is required.
For video projections covering the entire surface, 6 video projectors are required.
Due to its hemispherical shape, the perimeter of the geodesic dome is not very practicable close to the wall, although, in the case of larger domes, the angle of curvature is very open and does not affect it too much.
The rigging of equipment must be done in these structures using up to 5 circular points in the same ring.
Tips for organising an activation in geodesic domes
When geodesic domes first entered the experiential marketing scene, they were expensive, with virtually one-size-fits-all pop-ups that allowed for simple brand-in-the-hand opportunities.
Fortunately for everyone, geodesic domes have evolved and companies such as Geodomes Immersive Experiences are adapting these products and their costs to the Spanish event market. Renting a dome in Spain can be approximately 50% of the cost of renting a dome in another European country, where this type of structure is more common at events and music festivals, and is in much higher demand, and therefore also more expensive.
The technology allows for customised activations and events that immerse the audience in a personalised world bordering on virtual reality.
As the technology continues to improve, so will the resolution and image quality of these experiences. Soon, images and animations in event domes will be more visually impressive than those in VR devices and movie theatres.
Although many more event dome sizes are available today than when they were first introduced, the costs required to create a super production with a geodesic dome can quickly multiply if some aspects such as capacity, video content, AV equipment, etc., are not clear. However, the variety of sizes, prices and technology options allow you to create a solution that fits your scale and budget, and you can customise it to get the best possible return on investment.
Once you decide you're ready to host an activation or event with a geodesic dome for your next experience, you need to focus on your planning and execution strategies to get the most out of it and dazzle with your event.
These five factors are crucial to getting the most out of an event dome:
The location is one of the most important elements for the success of any event.
Depending on the type of event, perhaps the most convenient idea is the installation of the geodesic dome in a public place in the centre of a city, or if a more private environment is desired, in one of the many estates and spaces for events that exist in all cities.
It is important to differentiate the size of the dome needed for the activation, as the time needed for its assembly can vary quite a lot, and some logistical needs as well.
It is not the same to set up a small or medium sized dome in Plaza de Callao, in Madrid, where the subway passes underneath and there are some weight restrictions, or to set up a 500m2 dome for which it is essential and necessary to install it with the help of an 80T crane (do not confuse the tons that a crane can lift, as in this case 80T, with the weight of the crane itself).
The main photo that illustrates this entry, is a dome of 14m in diameter and 154m2 that we installed in the Plaza de Callao, and that in normal conditions we install by using a boom truck, but on this occasion, due to the weight restrictions in the Plaza de Callao, which cannot exceed 15,000Kg of weight at any one time, we had to install with the help of scaffolding and many more hours of work than normal.
2. Understand that this is a Geodesic Dome and not just a tent

The sooner we understand that geodesic domes are not  normal event tents and holding an event in geodesic domes are not the same as holding the event in standard tents, the sooner we will start to use the domes and their special features to the advantage of the event itself.
More than half of your clients, neighbours and friends will not even know what a geodesic dome is, in fact, it is likely that they have never heard the word before,… but if there is one thing you can be sure of, it is that once your client knows and attends the event, they will be smiling from ear to ear.
Do you want to surprise your client with the dome, even before the event takes place, and in this way be able to sell the idea better?
It's very simple, model the dome in 3D, make in 3D the installation of furniture and other elements inside the dome, add a layer with the video projection that you are going to use or a 360º video that serves as an example, place a rendering camera inside the dome, pointing in all directions, showing all the elements and ending with a panoramic view of the ceiling projection, and record a video to be used in virtual reality glasses.
With this, you have everything you need so that in your next meeting with your client, the client can live in first person the experience of being inside a dome without even having installed the geodesic dome itself.
A picture is worth a thousand words, and honestly, explaining what a dome is is not easy, but showing what a dome is and what can be done in a dome is really simple and after a presentation like this, nobody leaves with doubts about the project.
A geodesic dome is not just a tent in which to hold your event, it is an additional element around which your event has to revolve.
** 360º Virtual Reality Video Frame of the interior of a geodesic dome with a customised design and projection on the dome **.
Geodesic structures are beautiful in themselves, and as such, depending on the time of the year and the theme of the event, it is not crazy to use only the structure, without any kind of roof or with "different" roof shapes, or to use only the structure as a support for other elements that enhance the shape of the dome itself.
In words the previous paragraph is very strange, but I am sure that with the following images it is much better understood and we will understand why geodesic domes are not like other event marquees:
Geodesic Domes as a support for LEDs:
Either by installing LED tubes in each of the tubes of the geodesic structure, totally or partially, the effects that are achieved with a good programming with a lighting console and bitmaps, or with the use of a media server, the result obtained is spectacular, As in the video of Wisin, Adrenalina, and if the budget is not a problem in our event and we can afford the manufacture of methacrylate triangles with LED strips that take the place of the PVC cover, the result is simply spectacular, as happened at the Burning Man Festival.
Geodesic Domes as an illumination support:
An intimate concert, the recording of a music video,… geodesic domes can also be a solution and alternative to the typical ground support structures that are installed at concerts, since, apart from being used to hang lighting equipment, aesthetically they also provide a plus in the final result as a background.
Geodesic Domes with different types of membrane covers:
The standard geodesic dome covers are usually covers that occupy 100% of the structure, but within this type of cover, there are many variants, such as Full Opaque Covers, Full Translucent Covers, Full Transparent Covers, Full Opaque Covers with Transparent Front Bay or Panoramas, or with unique designs thanks to the shapes that can be obtained by covering triangle by triangle and forming different shapes with them:
Geodesic Domes with Branded cover:
The covers can also be customised either with the application of vinyls, with images, logos, etc., with a solid colour, or by printing directly on the membrane. Everything to differentiate the event from any other and at the same time show the corporate colours or the brand from a distance.
3. Fulldome Video Projections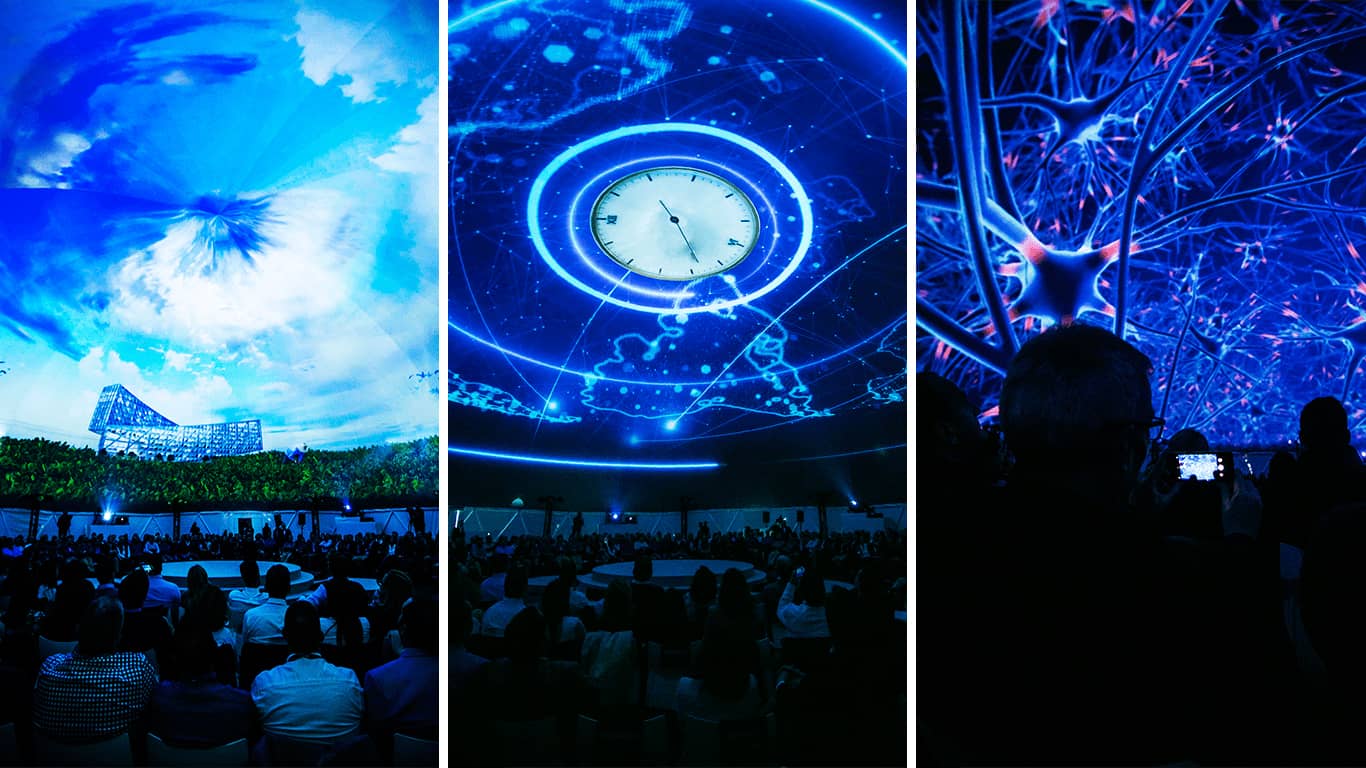 We can assure you that even more expensive than the cost of renting a geodesic dome is the creation of the audiovisual content to be projected.
An approximate average of one minute of 3D content per minute is around €3,000, so if a somewhat long intro and a few more moments of projection are made, the budget for the audiovisual content will far exceed the cost of renting the geodesic dome itself.
The important thing is to have a studio that understands the needs of the event and uses all its resources to minimise this as much as possible.
If in an intro of 40 seconds you can tell, in a spectacular way, the brushstrokes that summarise the event, it will be better than doing it in an audiovisual projection of 4>5 minutes, in which, for example, the effect of initial amazement decreases with the passing of the minutes.
3D elements are very laborious elements that require a lot of design and modelling time, as well as the incorporation of rigging to give them movement. Combining 2D elements with 3D elements will drastically reduce the final bill, and aesthetically, if the script is well structured, it will not affect the final result of the projection.
The only thing that limits the success of your project with a dome is your imagination.
Finally, you are not going to find a show made in a library on the internet that will solve your problem, but you can find different elements already modelled at a very low cost, that you can use to add to your composition, and in this way save a few days of modelling,… and one plus one, plus one, etc,… will mean that the final bill will have been reduced considerably.
As in the previous recommendation to show the pre-assembly or design of the event through Virtual Reality glasses, you can show how the video content would look like through simulation, which will undoubtedly also help you in project presentations to clients:
Here are a few tips to help you cut costs a little more.
1- Still photos:
Not all audiovisual content has to be a spectacular video with a multitude of effects. A good photo, or a static rendering in 360º format, with an automatic turn that the media server itself can give automatically, can become a background that looks spectacular as a backdrop for certain moments of the show or presentation.
Not to be confused with replacing all audiovisual content with static photos,… these are simply recommendations to complement.
2- Real Image Recording:
With the multitude of cameras that record up to 8K, real image, the use of this type of recording reduces considerably the budget of the audiovisual content, since the recording of this type of images are cheaper than the CGI production of content, and really, the real recording can make a lot of sense is made for example, the recording of a factory, the interior of a car, etc,… that projected inside the geodesic dome, it makes a lot of sense depending on the theme of the event.
3- Use the geometry of the geodesic structure itself:
Whether using video liner, a layer that hides the structure and onto which it is projected, or projecting directly onto the structure and the PVC cover, making a projection of lines, playing with the geometry of the geodesic dome itself, has a spectacular result.
4- Use the geometry of the triangles of the structure:
As in the previous case, in this trick, we will use the structure, but not the tubes but the triangles that form the structure, being able to add different videos masked in the triangular forms (creating triangles, pentagons, hexagons or irregular forms), not necessarily in 3D, which reduces the cost of production, it will give us as a result a spectacular projection and rarely seen.
For this type of effect, it is more advisable NOT to use the video liner, as the effect is better if the structure of the geodesic dome itself can be seen.
Keep in mind that the content for a geodesic dome does not have the image format that we are used to, a landscape format, 16:9 or 4:3.
The content that any media server 360 needs is content in a square format, with the content in a round format within that square.
In this way, depending on the resolution, we can have a video with dimensions of 2048×2048 pixels, or 4056×4056 pixels if we have a 4K format, and so on,… but the content that we will actually see projected on the geodesic dome, is arranged in a circular shape inside this square.
And if we have images in 16:9 or 4:3 format, one way to take advantage of them and use them in our event is to add them to the composition as windows embedded in our content. In this way, we can use the corporate videos available to the client.
One of the main characteristics of geodesic domes, being a circular surface, is the possibility of creating different distributions inside them, from a theatre format, in which the front part or installed stage is on one side and the attendees are oriented in that direction, a circular format with a central stage and the audience around this stage, or an exhibition format in which the installations or furniture are on the perimeter and the audience is arranged inside this space.
Different configurations for different types of events or different conceptions of the same type of event.
Audiovisuals are another of the most generous items when organizing an event in a geodesic dome, since, unlike in other tents, in which a video projection is necessary, it is carried out with a single projector, two maximum, a geodesic dome requires between 5 and 8 projectors, depending on the size of the dome.
Depending on the design and distribution that we have chosen, the technical needs vary, since if we opt for a central stage, we will have to at least triple the lighting and sound equipment, in order that the speaker who is on The stage is always illuminated, regardless of their movements on the 360º stage and the sound has to reach both the speaker and the audience in the same way, since both are oriented in a 360º format.
In the opposite case, it is a theater format design in which we have a front stage and an audience located in front of this stage, so the needs for both lighting and sound are reduced compared to a 360º distribution.
Between five and eight video projectors is a high number, but if we want a good result, this is the need, since, in small domes, it can be tricked by using a single projector located in the center with a wide-angle lens, but the The result leaves a little to be desired, and the reason is very simple, an image, no matter how high quality it may have, 4K, 8K, etc … If the projector that is going to launch that image has a maximum quality of 2K, the fantastic image 4K or 8K at source, it will look as if it were projected 2K, and 2K is not a large enough resolution to cover a 360º projection, so the pixels will be the size of a hand and therefore will not be a quality screening.
Sectioning that high quality image at source, using 6 2K video projectors for example, will give us a high quality projection respecting the quality of the original video file while maintaining a good level of brightness.
The most widely used mid / high-end projectors are the 20,000 lumens projectors, regardless of the brand, and at present, with a predominance of led lamp projectors, with much less consumption, more durability and good luminosity.
Making a mistake or "be stingy" in these elements, can entail spending X for projectors perhaps somewhat cheaper, some not cheap audiovisual content and have a mediocre final result, so it is better to find a balance in order to obtain an affordable budget and a spectacular final result.
Media servers for video projection in geodesic domes, or in general for any video mapping projection, have evolved a lot in recent years and the content adjustments no longer have to be made point by point, at least in some models, which takes a few hours of adjustment.
Nowadays there are Media Servers with self-adjusting cameras, that is to say, with the dome empty, a tripod is installed with a camera connected to the server, and as if it were magic, it does the self-adjustment of the video content, since the camera detects the position of each projector, and by means of the projection of a series of patterns, it automatically adjusts the content.
During the event, there will always be someone who stands up, either audience or technical staff, and when walking near the video projectors, usually located on totems or lecterns, being in contact with the ground, will cause small vibrations that will be visualised in the projected image as if it were an earthquake. This small vibration is multiplied in the image being projected.
For this, it is advisable to use trays that support these projectors and that we will fix to the geodesic structure, without any contact with the ground, which will save us a lot of headaches.
Holding an event in a geodesic dome may scare you into thinking that it is going to be a high financial outlay, and in part, you are not wrong, but putting in a balance the impact and attractiveness of the final result and the financial outlay, cheapened with the advice given here, will undoubtedly tip the balance towards the YES side, holding the event in a geodesic dome that will be unique and singular and whose media, social and digital repercussion will be an addition to the event, product or brand that is being promoted.
Events in Geodesic Domes, although they are gradually gaining ground, are not as common as events in famous venues in the city or in gabled marquees, and no matter how much innovation is applied, there will always be a few event agencies that have held a similar event in the same space.
If you need any kind of help or technical assistance in this process of organising an event in a geodesic dome, you can count on Geodomes Immersive Experiences to advise you.
Geodesic domes offer you much more customisable and unique events, and following our indications, not so expensive and in addition to the unbeatable prices of Geodomes Immersive Experiences, affordable for any brand.